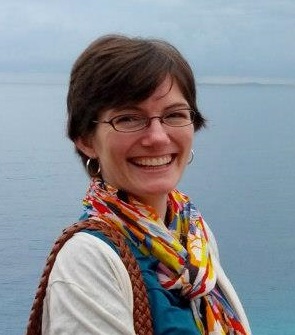 We first met Tegan Tigani a few years ago while we were on tour in Seattle. She was so excited to give us the grand tour of her kingdom: the Queen Anne Book Company kids section, where she is the book buyer. Her enthusiasm and passion for books was completely contagious, she was exactly the kind of evangelist you want selling your book. We've subsequently used her to edit several of our clients' children's books, and she is one of the most knowledgeable people we've met when it comes to books in general and kids books specifically. So we thought we'd pick her brain to find out some of the secrets to successfully publishing a children's book.
THE BOOK DOCTORS: So, how did you get started in the ridiculous business of books?
TEGAN TIGANI: Serendipity!!! I've always loved reading, bookstores, and libraries; I volunteered and worked in my high school library back in the day. When I moved to Seattle from Rhode Island after college, I thought I was going to work in museums and education. (I studied History of Science in school.) My first day in town, the first place my then-boyfriend-now-husband took me was Queen Anne Books. As we left, new purchases in hand, I commented to him, "I'd love if I could get a little part-time job in a place like that until I find my real job." The next day, the owners posted a sign that said "Book lover wanted." I started working there that week. That was over 14 years ago.
TBD: Tell us what you do at Queen Anne Book Company.
TT: I am a bookseller and the Children's Book Buyer. We all wear many hats, so I help with event coordination, website design, and all sorts of other things, but I spend most of my time recommending books, ringing up purchases, and meeting with publisher reps to decide what great new books we'll carry in our kids' and teen sections each season.
TBD: It's been an incredible saga, what with the closing and re-opening at Queen Anne. What the heck happened?
TT: I wish I really knew! In April of 2012, a new owner bought Queen Anne Books, which had been beloved in the community for over 20 years. By the end of October 2012, she closed the store. After a truly sad holiday season, the community got the great news that a new owner and management team wanted to start a brand new bookstore in the location of the old Queen Anne Books, and Queen Anne Book Company was born. The new owners were able to hire four staff from Queen Anne Books, so we have some continuity even with our fresh, clean start.
TBD: What grabs you in a children's book?
TT: In picture books, I tend to gravitate toward books that beg to be read aloud but also stand up to hours of flipping pages independently… I want something that uses clever, age-appropriate language and has illustrations that really contribute to the story. I find that good picture books are so crucial to readers' developing comprehension; I love a book that makes the adult and child look at the picture and text again and really mull things over.
TBD: Why is there a prejudice in the picture book world against rhyming?
TT: Ha– I almost put "great rhymes" in my previous answer! So I don't think there's a prejudice against rhyming; I just think it's very hard to do it right. If it's not just right, you shouldn't force it, so it's better to go with prose. One of the biggest delights during my bookselling career was discovering Skippyjon Jones. I remember when that first came out, the rhymes were so good, we couldn't stop reading it aloud to each other in the store. If you can get the rhythms of poetry to work in a kids' book (Dr. Seuss!), it's magical. If it's not, even the youngest listeners will cock their heads, know something is off, and choose another book to read next time.
TBD: What mistakes do you see children's book authors make?
TT: I have a very hard time with children's books that are too preachy. Some kids and parents enjoy a concrete lesson, but most readers I know like to draw their own conclusions from books. I also wonder if some children's book authors actually read their books aloud before they submitted them. Pacing and language are tremendously important in picture books, and I think reading aloud is one of the best ways to check if you've gotten it right.
TBD: What advice do you have for people who want to write a children's book?
TT: Think about the audience. Before, during, and after, children's book authors need to consider who they want to reach with their book. If they keep the audience in mind, voice, vocabulary, pacing, even subject matter will match, and the book will be more successful. My other piece of advice is to let the professional illustrators do the illustrations. I'm delighted by the layers of meaning well-done illustrations can add. The right illustrator can make a good book great.
TBD: Thanks, see you at the bookstore!
TT: Thanks, you too!
Tegan Tigani loves connecting readers and books, whether as bookseller and children's book buyer at Queen Anne Book Company, tutor, freelance developmental editor, ghostwriter, editor of nwbooklovers.org, vice president of the Pacific Northwest Booksellers Association, Seattle Book Examiner, blogger at tsquaredblog.blogspot.com, or party guest. When she isn't reading or talking about books, she enjoys traveling, cooking, eating, and walking (sometimes all at the same time). She lives with her husband in Seattle.