I have long been horrified by the persecution and violence directed at so many people in the transgender community. But I find myself confused as to what I can do to help. Frankly, I find myself confused about many things. So I thought I would ask an expert. She is Juli Grey-Owens, and she was kind enough to let me pick her big brain.
Read the interview on the Huffington Post.
David Henry Sterry: How did you get started as an activist?
Juli Grey-Owens: In meeting transgender people throughout my adult life, I've seen a lot of pain and suffering. The emotional stress and trauma as well as the lack of basic needs have been appalling to me. When I finally came out in 2003, I believed that I could use my talents to help my community. I began going to transgender events across the country, talking to people, becoming political and learning about the issues we face as a community.
DHS: What are the origins of this organization?
JGO: LITAC, the Long Island Transgender Advocacy Coalition, was started in 2005, when a group of transgender advocates decided that it was time to start working on civil rights issues. As the years went on and our work grew, we began to be noticed by people knowledgeable about political issues and ideas. They helped us form TransPAC, the first political action committee to deal specifically with transgender rights issues. We support political candidates, organizations, or grass roots efforts that further our goal of full equality for the transgender and gender non-conforming community. To our knowledge, we are the only PAC of this kind.
DHS: What is your mission?
JGO: Specifically, LITAC's mission is to engage in education, advocacy, and outreach in order to achieve public understanding and support for the Transgender Community. We work with local, state and national organizations in an effort to bring about full equality and create a movement that works for social, economic and racial justice for all transgender and gender variant people.
TransPAC's mission is more broadly defined to support any person, legislation, or action that works to better the lives of transgender people.
DHS: What is your take on the controversy regarding restrooms and trans people in many Southern states?
JGO: My first thought is that this "controversy" is not limited to Southern states. Here in the very blue state of New York, transgender people still do not have explicit statutory civil rights protection (a law) granted by our state legislature, even though gays and lesbians have been protected for over 13 years! Additionally, guess what opponents call the bill that would protect us – "The Bathroom Bill!"
Bathrooms have been used as an excuse to prevent civil rights a number of times in America's history. Many will recall segregated bathrooms, which continued into the 1960s. In the '70s there was an outcry when the proposed Equal Rights Amendment to the Constitution, which would have prohibited discrimination on account of sex, came within three states of being ratified. Opponents to the bill suggested that prohibiting sexual discrimination would lead to unisex bathrooms. In the 1980s, the Americans with Disabilities Act (ADA) fought the long history of "out of sight, out of mind" segregation of disabled people, especially in bathroom use.
Although it is getting better, there is a general uncomfortableness that cisgender people (those who's gender identity match the sex they were given at birth) have when confronted with members of the transgender and gender non-conforming community. As a result, opponents will use fear to prevent our community from discrimination protection in employment, housing, and the use of public services. These are rights every other American has.
DHS: Why do you think people have such strong and violent reactions to trans people?
JGO: Our culture has created two important values. The first is what is called the Gender Binary, which is the belief there are only two discrete gender categories (male & female), and that no other possibilities exist. This belief creates a boundary that discourages crossing or mixing gender roles.
The second value is Heteronormativity, which is the belief that heterosexuality is the norm, and that heterosexual masculine men and heterosexual feminine women are normal, natural, and right. This value enforces the idea that all "other" gender and sexuality dynamics are abnormal, inferior, and wrong.
In my opinion, the fact we never seem to analyze is the danger these values have specifically on cisgender males. Their culturally-supported aggressiveness is the true danger to our communities. I think most would agree that for the most part, pedophilia, rape, violence, murder, and war are usually started and supported by males raised in the "be a man" mold. Speaking generally, they also happen to be the biggest threat of violence directed at transgender people.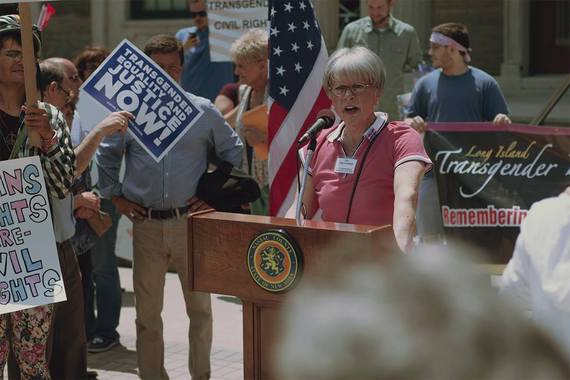 DHS: Do you think things are changing in regards to rights for trans people?
JGO: Yes, but it is too slow for my taste. In 2011, a national transgender discrimination survey reported that a staggering 41% of respondents reported attempting suicide compared to 1.6% of the general population, with rates rising for those who lost a job due to bias (55%), were harassed/bullied in school (51%), had low household income, or were the victim of physical assault (61%) or sexual assault (64%).
With statistics like these, how can any community leader be satisfied? Chipping away a little bit at a time will lose too many of our community members during this shift. We need major changes–NOW.
DHS: There has been so much backlash as well as so much embracing of Caitlyn Jenner. What is your take?
JGO: I think they are directly related and both stem from the invisibility our community has endured for hundreds of years. Only recently have there been any positive role models shown in the media. Most people would be hard pressed to speak of transgender political leaders. In fact, a recent report found that there are only twenty transgender elected officials currently in office at any level across the world!
Transgender people need to stay secretive and under the radar due to the violence and discrimination that being "out" can produce. Even coming out to one's family can produce terrible results like divorce, the breakup of the family, and teen homelessness.
This invisibility is magnified by the omission of acceptance in the media, in legislation at all levels of government, and in faith communities.
Caitlyn Jenner has been a media sensation, and has made people talk about the existence of transgender people. For this we should all be grateful. I do not support many of her views, but the fact remains that she has moved public awareness substantially forward.
However, as the world becomes more aware of the existence of the transgender community, fear and hatred begin to increase. And as we've seen in the past, when minorities get "uppity;" when they have an "agenda;" they become dangerous to those who will not easily relinquish control, or even allow a level playing field.
DHS: I get so frustrated not knowing exactly what one person can do to make a difference. Do you have any suggestions?
JGO: Absolutely! The best place to start is to learn some of the words that are part of what I call the "language of gender." This can easily be done by googling the word "transgender."
Once you understand the words and the terms, you'll accept that gender is a really complex thing. You'll understand that being a transgender person is another diversity that is found in our world, like being left-handed or having red hair.
The number one rule for being a good ally is never "out" anyone – even if your goal is to let that person know that you support them. "Outing" is defined as the act or practice of publicly revealing a transgender person. Revealing someone's trans status could cost them a job, a relationship, or their physical safety.
The next most important thing is to ask the trans person about their preferred pronouns. If the gender presentation is clear and obvious, use the pronouns that match that presentation; but if unsure, politely ask in private what pronouns to use.
Listening to transgender people is a great way to better understand. Talk to transgender people in your community but be sure to listen with an open mind. Check out books, films, YouTube channels, and transgender blogs to find out more about transgender lives.
Know your own limits as an ally, and don't be afraid to admit when you don't know something. It is better to admit you don't know something than to make assumptions or say something that may be incorrect or hurtful.
Get proactive and get political. This can include supporting gender-neutral public restrooms; challenging anti-transgender remarks or jokes; helping your company, church, school or group to become trans-inclusive; or sending a check to a transgender rights group. On a Federal Government level, write your congressman and senator and demand they support the Equality Act, a comprehensive bill that would update the Civil Rights Act of 1964 by adding "sexual orientation" and "gender identity" to existing protected classes. When passed, it will prevent LGBT people from being fired, evicted, or denied public services.
Finally, if you see or experience anything which affects the dignity and rights of transgender people, speak out and act up!
DHS: What would you like people to take away from this interview?
JGO: I would like people to know that transgender and gender non-conforming people are real people. We can be a family member, a friend, your neighbor or a co-worker. Everyone needs to understand that we have the same hopes and dreams as everyone else. We want the same things that everyone else wants: an opportunity to advance; a safe place to live, work, and play; and the removal of discrimination when it comes to basic needs in education, housing, and health care.
Juli Grey-Owens is a Long Island and New York State Transgender Community Advocate. Grey-Owens is the Executive Director of LITAC, the Long Island Transgender Advocacy Coalition and regularly speaks at public forums about the need for statewide Transgender Civil Rights. As Executive Director of LITAC, she has organized all of LITAC's demonstrations including this year's second annual State of the State Demonstration in Albany, and LITAC's Third Annual March & Rally for Transgender Civil Rights in Nassau County.
Grey-Owens is the founder and owner of Transgender Management Consulting, an organization which works to help organizations become transgender inclusive.
Grey-Owens is also the Executive Director of TransPAC, New York's first Political Action Committee, focused solely on Transgender Rights. She served for six years on the Empire State Pride Agenda Board of Directors, the New York statewide LGBT advocacy organization. She served as Chair of the GLBT Democrats of Long Island, and was a member of the Suffolk County Democratic Party Executive Committee from 2006 through 2014.
Grey-Owens currently serves on the AIDS Institute Transgender Advisory Board, and is a member of both the Nassau County and Suffolk County Steering Committees to End the HIV Epidemic.
She was a 2009 Long Island Pride Parade Marshal, was the recipient of the Empire State Pride Agenda Star Award in 2007, the 2008 Auntie M's Helping Hands Humanitarian Award, Outlook-Long Island's Activist of the Year in 2009, and the 2013 Long Island Crisis Center Groundbreaker Award. She gave a key address at the 2012 New York State LGBT Equality and Justice Day held in Albany, and last year spoke at the Manhattan Marriage Equality Rally when the Supreme Court ruled in favor of same sex marriage.
She has a daughter, Sarah, and lives in Huntington with her wife, Barbara, and their two cats, Fraidy and Sylvia.